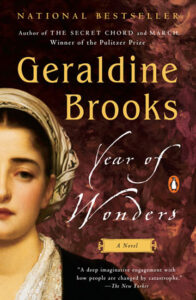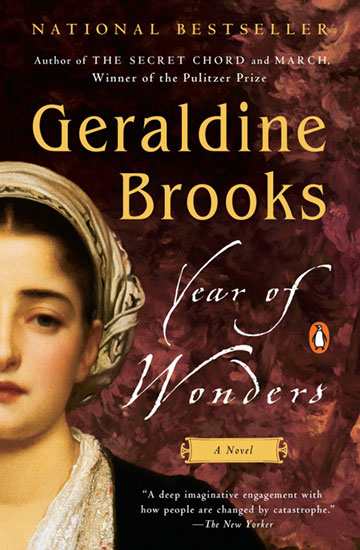 Writing in The Guardian, reviewer Alfred Hickling professed himself stunned by Geraldine Brooks' tale of the black death village that sacrificed itself for the health of a nation, Year of Wonders…
"It begins with the scent of rotting apples and a flush that looks like rose petals blooming beneath the skin. Then the yellow-purple pustule appears, swelling to the size of a newly born piglet. Eventually it bursts, like a pea-pod splitting open, spewing pestilential pus flecked with spots of rotten skin.
"This is what the villagers of Eyam, Derbyshire, condemned themselves to in 1666 when they took the heroic decision to quarantine their plague-infested village and prevent the contagion from spreading further. In 1842, William Wood, a descendent of one of the few surviving families, observed in his history of the village that: 'The immortal victors of Thermopylae and Marathon have no stronger claim to the admiration of succeeding generations than the villagers of Eyam; who in a sub lime, unparalleled resolution gave up their lives—yea: doomed themselves to pestilential death to save the surrounding country'.
"Some 260 villagers, an estimated four-fifths of the population, succumbed to this final and most virulent outbreak of the black death in Britain; but as most of the evidence perished with the population, established facts are hard to come by. With the popular belief that the contagion arrived in a bolt of cloth delivered from London, the situation is tailor-made for fictional adaptation: the self-sacrifice of the villagers of Eyam has appeared in novels, plays and even an opera. In her first essay into historical fiction, Geraldine Brooks approaches the situation not as a novelist, but as a war correspondent whose experience of reporting from Gaza, Somalia and Bosnia is keenly felt on every page of this chilling, forensically detailed dispatch from the frontline of the seventeenth century."
Read the full review of Year of Wonders online at Guardian Unlimited
Review The Guardian issue July 14, 2001
© Guardian Newspapers Limited 2004